Your label is called Fckng Serious. Is it, in fact, a serious label?
Of course, it's a serious label, but we could say that, somehow, people involved in it is not. That's why we called it "Fckng" Serious. We are serious, but we are kind of "fucking" too. It's like a 50-50.
What's the goal?
Our main goal is to make the people happy with our music and our parties. It sounds easy, and in fact, it's easy to say, but it's a hard goal.
I imagine FCKNG SERIOUS is not only about Boris Brejcha…
Absolutely not. We planned to have a lot of parties around the world in order to be able to include all the different artists in the line-ups. We are four and this tale is about all of us.
We've read you started to produce your own music at the age of 12. How did you get to that point so early?
It was super simple. I was in school and a friend of mine brought a hardcore CD. That was the first time I listened to electronic music. I used to play with the Play Station 1, and there was one game called Music. It was kind of Ableton. You could do some beats and some melodies, so I started to do electronic music with that.
What advice would you give to a 12 years old new producer?
It's super important to learn keyboard in order to play nice melodies. Melodies are something which stays in mind of the people, so you should know how to create cool melodies. Also, it's important to do some drums. That's good advice. And, of course, produce the music you really like. That's the most important advice.
Do you really think all the 12 years old kids are able to do that?
Well… (laughs). Maybe some of them. I don't know. But all of them should try, at least.
https://www.youtube.com/watch?v=TLvzz1ePBjQ
In some platforms, they say you produce high-tech minimal techno. How would you define your music?
When I started to produce music, I was used to producing trance music. Then, later on, I switched to minimal and techno, but I never did any of them, just always both at the same time. I was doing kind of a combination of both, with melodies and a few drums. I started with the minimal, but then I wanted to find another better name, so I picked this one, which I think defines much better my music.
Can we say the same about the music of all the label?
No, it's very different. We have the two guys from Switzerland, which are making more deeper sounds, like deep house music, and Ann Clue is doing a much more pumping techno style.
You are German but quite far from Berlin. Is there in Ludwigshafen am Rhein a very different underground scene compared to Berlin?
In my city there's nothing. No scene. I played 5 or 6 times in Berlin and it was good, but, compared to the rest of the world, it was just OK.
And around the world… What's your fav crew?
There are a lot of amazing cities and venues around the world, which are very difficult to compare. There's a super cool open-air location in Cordoba, Argentina. They have an old fabric and it's supermassive. Maybe I'd choose that one.
Is this your first time in Barcelona?
Yes!! It's gonna be my first time playing here and it's also my first visit to the city. Unfortunately, I'm not staying so long.
You've already been at INPUT this afternoon. What do u expect from the venue? And from the Spanish crew?
I think it's a small but supermassive club, with a big sound system. I love these small and packed things. They're more intense.
What are your thoughts about the current status of the most famous party island in the world, Ibiza?
I don't know, because I've never been there. Absolutely never.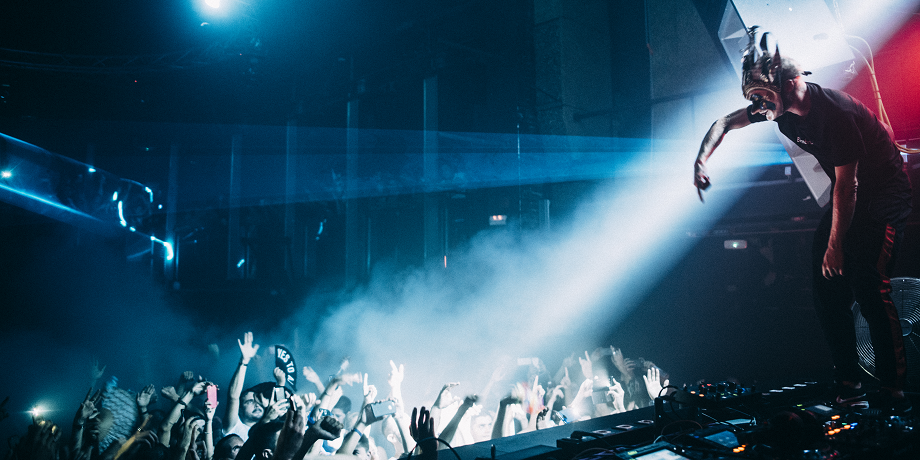 You arrive here with your Bus Tour. Tell us more about it. Where does this idea come from? Why a bus?
The idea came 3 years ago. I was sitting with Ann Clue having a glass of wine and thinking about ideas for the future. We realised that rock stars normally travel on a bus, and sometimes even with their kids & families. So we asked ourselves "why not with an electronic music label?". It was a long way to make it happen, but I really think it's a super nice idea. Sometimes we've spent more than 17 hours on the bus travelling, but it's also super nice because we have fun together, we drink, we do a lot of team building… It's really good.
You said once that is amazing to see people dancing to your own music on a dancefloor, so you'll never stop producing. Is Boris Brejcha more a producer or a DJ?
Yeah, I will never stop producing my own music. I'm much more a producer than a DJ. When I started to produce music, I was never thinking of going on a stage. Never. The DJ thing came later, as a consequence.
So, they're absolutely different things? Or, nowadays, to be a producer means to become a DJ in the end?
I know a lot of producers who stay as producers. They don't like to deejay on a stage or to travel every weekend. I tried to deejay and I learned how to enjoy this DJ thing, so now I can say I love it. But I understand some people don't.
Isn't it true that is super difficult to become a professional producer who lives of his/her music if you don't deejay or perform around the world?
If we're talking about electronic underground music, that's absolutely true, unfortunately.
When will we see a live performance by you? I guess the idea has been sometimes in your head. Will it happen?
(Laughs). The idea has been in my head several times, yeah, but I don't know, actually. For the next year, I'm planning something like a showcase. I also have in mind to do something with electronic drums but it's just an idea, I don't know. It's super comfortable to go with these USB sticks.
Is it impossible nowadays to become a big DJ without producing your own music?
That's a good question. I think it's crucial to produce your own music. People know you and follow you just because of that. In Germany, we have a lot of DJs who don't produce, and they never play abroad in Europe because nobody recognizes them. They don't have music to show, so it gets more difficult for them to become bigger and to grow.
Will we see the mask tonight? How was it born? What's its meaning?
Of course, you will! Actually, it was a funny thing. My very first gig in my life was in Brazil (yeah, I know it's super weird that it didn't happen in Germany). I was thinking I had to do something different because there was a lot of DJs around. I was thinking about the Carnival in Rio, the masks… and then I decided to buy one of these masks and use it to play.
Normally, you don't use it during the whole set, do you?
No, normally I use it half-set. I have to say it's not the most comfortable thing in the world to wear. I have some changes on it planned for the future. But, in any case, I think it's also good to do changes during the set. Starting with the mask makes people go crazy. Removing it later is even better. When I take it off, new energy, vibe and atmosphere are breathed. It's like a re-start of energy in my show.